Posted by Bill Doyle - Altitude Communications on 17 April 2008
Bill Doyle - Professional Marketing Mentor, Author and Speaker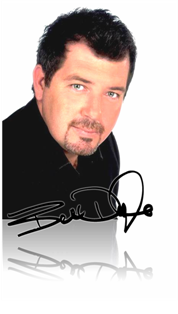 Bill Doyle, also known as "The Marketing Mentor" is a Communications and Online Marketing Specialist in Brisbane, Australia who has developed a unique way of integrating concepts, ideas, marketing and online email marketing solutions to assist in the growth of individual's, small business owners, solo-preneurs, entrepreneurs.

Never one to shy away from a challenge, Bill Doyle, Founding of Altitude Communications and Entrepreneur, is an industry leader and continues to bring creative and successful solutions, providing state of the art marketing solutions to his clients.

Altitude Communications is a shift away from the more traditional media marketing to new innovative and exciting e-business models. Combined with exceptional marketing techniques, they provide all the necessary tools to give businesses more exposure in a competitive global market place. Bill leads a team with expertise in sales, communications, marketing/advertising, brand development, digital media applications, research and analysis. Collectively they help businesses, small, medium and corporate to gain their desired exposure and to become a driving force in the market place.

Driven by results, Bill Doyle thrives on interaction with clients and colleagues.

"We listen to our clients' dreams and goals and gain a thorough understanding of their desired end result; their dreams become our dreams," says Bill. "Knowing a clients needs and their desired outcomes is the success of each individual campaign."
Bill ensures his team of experts are up to date with the most sophisticated and cutting edge systems to empower the clients with the tools and knowledge to maximise their business potential and profits.
"We all stay motivated to be leaders in the market by regularly setting our own dreams and goals and I encourage continued personal development through ongoing training. Basically we practice what we preach," he says.
Altitude Communications is a now a highly-experienced and sort after progressive team that advises individuals, as well as small, medium and large companies on how to make the cash register sing. Bill Doyle relaises that as a business owner you work hard and running your business can take a lot of time and energy and you are most likely proud of your results to date.

Bill educates client on how they can make huge profits from simple ideas that anyone can utilize. He will also encourage clients and individuals to harness the power of your marketing dollar to help you increase your effectiveness in the marketplace with your personal brand and image.
Bill's secret of success with customers is to empower the business owner with clever ideas and 'tricks of the trade' so that you can watch your effectiveness soar.
For the last 22 years, however, Bill has been flexing his "creative" muscle in advertising and marketing. During this time, he's worked with some of Australia's leading corporations including: Coca-Cola Amital, Campbell Brothers Ltd., Mc Donald's Restaurants, Vodafone, Optus, Birch Carroll and Coyle. Plus, his communications and marketing material has been seen in some of Brisbane's premier companies including: Pioneer International, The Brisbane Lions, Holden Performance Driving School, PKF and Action International.
Having increased the profits for many SME's and large Companies, Bill enjoys watching the growth and success of the clients that he has the privilege of working with.
---
Need a Keynote Speaker for your next event?

Speaking Topics include:
The Power of Using LinkedIn to Attract New Clients
Email Marketing Secrets Revealed
6 Low-Cost and No-Cost Strategies to Generate Leads FAST
Create Your Powerful Unique Selling proposition (USP) to Skyrocket Your Success
Attraction Marketing - How to Get A Rush of New Clients on Demand

Bill Doyle Online Photo Gallery - Keynote Talks and Speaking Engagements
In The Media
Click Here to enquire now about how you can book Bill for your next event.
---
Digital Books - Published by Bill Doyle
Online Marketing Expert Bill Doyle from Altitude Communications, "The Marketing Mentor", is the creator of the very popular e-Books, eNewsletter Secrets Revealed and 10 Strategies for Boosting Your Website Traffic.
1. eNewsletter Secrets Revealed - Designed to help you to boost your marketing results...this very popular e-Book contains all of the ideas, strategies and tactics that are easy to follow and easy to implement. It will also show you how to get a competitive edge, generate leads, retain customers and increase your readership for achieving maximum eNewsletter results.

2. 10 Strategies for Boosting Your Website Traffic (the extended version) is a must-have guide to boosting your website traffic and it's jam-packed with strategies, ideas and tips that will put you way ahead of your competition.
Copyright Bill Doyle and Altitude Communications 2008-2012. All Rights Reserved.
---
DO YOU WANT TO USE THIS ARTICLE IN YOUR E-ZINE OR WEB SITE?

You can, as long as you include this text copy in it's entirety:
Marketing Mentor Bill Doyle publishes the popular 'My Marketing Mentor' weekly eZine with over 7000+ subscribers including solo-preneurs, entrepreneurs and business owner. If you're ready to boost your business, generate more leads and make more money, get your FREE 50+ fresh eMarketing ideas and tactics to help you to attract new clients like bees to a honey pot and grow a profitable business without spending a fortune. Go to http://www.Bees2HoneyPot.com