FastTrack2Success Lead Generation Bootcamp
It's time to FastTrack your Success in 2010 with our FastTrack 2 Success Lead Generation - Hands On Bootcamp
Click here to apply right now
You're invited to attend a "Hands On" Live Bootcamp and learn the business building secrets of Australia's Premier Website Traffic and Lead Generation Specialists.
It's time to FastTrack your Success in 2010.
Make the decision to join us to make a dramatic change in the way you market your business in 2010 and beyond. This never-before offered practical training will boost your business and give you the skills to succeed both on and offline.
What is the FastTrack 2 Success Lead Generation Bootcamp...
Designed to give you the exact skills to create, launch, manage AND duplicate your very own Lead Generation, Website Traffic and Sales Management System, the FastTrack 2 Success Lead Generator Bootcamp is an over-the-shoulder training program that produces results.
On completion of the program you will have a fully functional sales and leads management system that can be launched to your target market that will start generating inquiries straight away.
Including precious gems of insider knowledge that only come with years of coal-face experience and talent, this workshop is like no other in existence. Combining insider business knowledge with group mastermind sessions and brainstorming, individualised copywriting assistance, sales coaching and one-on-one technology support and on-going assistance - this unique workshop is exactly what you've been looking for to give your business the winning edge in 2010.
Meticulously designed to help both established and start-up businesses create, manage and profit from the generation of quality leads and website traffic, this bootcamp will change the way you promote your business today.
Here's what you'll get:
1. The heart and soul of your Business Communication System:
An individually pre-customised professional Database Marketing System and Email Marketing Template Set that you can use over and over again (especially after the Bootcamp) which also includes:

2 professionally designed email marketing templates,
sophisticated survey tool with easy-to-read reporting functionality
an SMS communication program
eCard Manager and
an AutoResponse System that allows you to put your communication on AutoPilot
a comprehensive reporting system that allows you instantly ascertain the success of every email campaign you send.
access to a series of detailed training videos that show you exactly how to maximise your use of the FastTrack email marketing system
2. Your COMPLETE Lead Generation System:
From Advertisement to Capture, this fully automated system will put streams of highly targeted leads into your Sales Management Funnel. It includes everything you need to attract, capture, manage and sell to your prospects, including:

advertisement,
optimised capture pages,
autoresponse email campaigns,
SEM Keyword Suggestions and more.
3. Your Article Marketing System:
Includes 10 professionally written, SEM Optimised articles to kick start your autoresponse communication program and start generating traffic directly from the Internet.
4. Your Website Traffic Management System:
how to use your lead generation program to increase the amount of traffic to your website using low cost/no cost strategies as well as SMART SEM (Search Enging Marketing) campaigns and direct inquiries.
5. Your Sales Management Funnel:
We'll teach you to how create a system that automatically leads your new prospects through to the sale.
6. An individual Social Media and Website Traffic Strategy:
Start capturing and converting prospects from the Internet and how learn how you can take it all offline to maximise your conversion.
7. Post Bootcamp Training via Webinars
A series of advanced strategic lead generation webinars to ramp up the effectiveness of your lead generation program.

Your investment for the FastTrack 2 Success: Lead Generation Bootcamp is just $3,800 (inc GST)


To sweeten the deal, and give you even more value, expert advice, incredible lead generation strategies and knowledge, we're also including...
BONUS #1...
A complimentary SEM (Search Engine Marketing) audit & campaign interview - Valued at $482

A one-on-one SEM audit to discuss your SEM options. This interview will give you the opportunity to delve into the complex world of effective SEM marketing with an expert to hold your hand. Forget risking thousands of dollars learning how to do it yourself, our SEM experts will give you an insider's advantage and help you to create successful direct inquiry campaigns.

BONUS #2...
An exclusive Mastermind Dinner with your Marketing Mentors on Friday night - Valued at over $100

Get one-on-one access with the Marketing Mentors to discuss your lead generation strategies and marketing challenges whilst enjoying some of the best food on the Gold Coast. This relaxed social event will allow you to network with other participants and maybe develop some cross promotional opportunities.

BONUS #3...
A FREE Copy of our informative and highly sought-after book: "Secrets to Attracting your Target Market" - Valued at $239

This exclusive guide details how to write a special report that contains an irresistible offer.
BONUS #4...
Individual Post Bootcamp Telephone Mentoring Sessions - Valued at $1,200
3 advanced coaching sessions after the event with advanced website traffic and lead generation strategies valued at $1,200
BONUS #5...
Access to our Client Resource Rolodex & Online Knowledge Base - Valued at $97
FREE access to our online password protected online Client Resource Rolodex and online knowledge base which contains amazing resources and lots of low cost/no cost ideas.

TOTAL BONUS VALUE = $2,118
PAYMENT OPTIONS
Early bird with bonuses
3 easy monthly payments of $1,266.66 (Dec, January 2009 and Feb 2010)
or
Pay in full today for the price of $3,600
The March 2010 FastTrack 2 Success: Lead Generation Bootcamp is strictly limited to only 10 participants.

Please note: Acceptance is based on strict criteria. After completing the expression of interest form, you will be notified of your acceptance in writing within 2 weeks of your application. Click here to complete the application form now.

The first step to your success begins with you. Secure your consideration for inclusion now by clicking here and completing the application form. Spots in the March 2010 FastTrack 2 Success: Lead Generation Program are extremely limited.
We look forward to reading your application.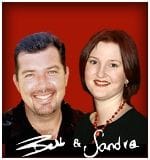 Bill Doyle & Sandra Hammond

Marketing Mentors for Altitude Communications
FastTrack2Success Lead Generation Bootcamp Application
Complete your details in the form below for consideration