Get your FREE 50+ e-Marketing Strategies!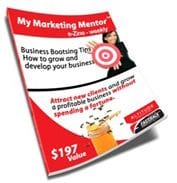 In this document, we share with you 50+ fresh e-Marketing ideas and tactics to help you to attract new clients and grow a profitable business without spending a fortune...valued at $47.
Simply complete your details below, and your FREE 50+ e-Marketing Tips will be sent to your email address immediately... plus you will receive a FREE subscription to "My Marketing Mentor" e-Newsletter.
Designed to help you to boost your marketing results whilst still growing and developing your business, My Marketing Mentor e-Newsletter is like having a Marketing Mentor at your fingertips.
Complete the form below and receive your
FREE Information now!
We respect your privacy:


Your information is safe and secure. We do not sell or rent our electronic mailing list to anyone at any time for any reason. You may remove yourself from the list at any time you choose by clicking on the unsubscribe link.