Altitude Communications Recommeded Resources
Manage Your Receipts and Business Cards Online
Send in receipts and business cards using pre-paid envelopes, email, or your mobile phone, and Shoeboxed will scan, data enter, and organize them for you. You'll enjoy new levels of productivity and never lose a deduction or contact again.
All Your Paper Records Will Be Audit Safe, Organized, and Digital
Shoeboxed is the most secure way to preserve, protect, and organize financial documents.
No more scanning, filing, or spreadsheeting. We do it all for you!
Easily download reports to Excel, PDF, QuickBooks, MYOB and FreshBooks.
Completely eliminate the hassle of paper receipts
Mail your receipts to Shoeboxed, then days later download your expense report anywhere, anytime.
Never lose a reimbursement or a receipt again.
Use Shoeboxed Mobile or our free iPhone app to easily capture receipts on the go.
---
Hummingbird Twitter Pro Tools
The primary goal of the Hummingbird software is to help you gain as many new followers per day as possible. Building a large network of targeted users is key to successfully marketing online...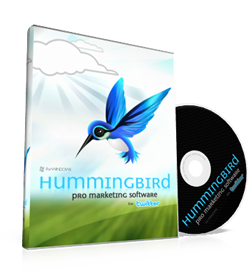 ---


Discover the truth behind the Weight Loss Hype...
7 Secrets the Weight Loss Industry will never tell you
In this explosive book, 7 Secrets the weight loss industry will never tell you, author Graham Park reveals the real reasons why weight loss company's diets, pills and meal replacements don't work.