WHAT DO OUR VALUED CLIENTS SAY ABOUT US ...
Real people, just like you, that are experiencing real success using Altitude Communications marketing strategies, tools and systems.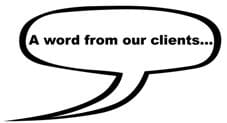 We invite you to read the comments provided to us by our valued client's.
Whilst you are here you might like to listen to our Podcast Success Stories and Video Success Stories online.
Audio Recordings - Success Stories. Click here to listen to them now...

Video Recordings - Success Stories. Click here to watch them now...
If you would like to add to this list, please send us a message and we'll promptly display it on our website!
---
5
"Altitude's assistance and expertise in the construction of our website and the development of a multimedia marketing tool has certainly helped to lift our company's profile in the market arena. The website looks great and we've received positive feedback regarding the CD Rom business cards. Thanks for a job well done!"
Lenore Haywood

, Marketing Services Manager | CATER CARE AUSTRALIA PTY. LTD.
---
5
"Just a short note to let you know that I am extremely happy with the outcome of our sales program that you have implemented. Over the past seven (7) months that we have been working together, our sales staff have gained substantial results from the team and individual sales trainings essions. It goes without saying that I have no hesitation in recommending your firm, Altitude Communications to any organisation seeking to expand the skills and relationships of their employee.
John Maxwell

, Managing Director | IMAGE RESULTS PTY. LTD.
---
5
"After attending your Client Attraction Seminar we learnt that email marketing is a very valuable tool. We have just recently signed up with Altitude Communications FastTrack eMarketing and we are looking forward to the benefits of the system in our computer business and gaining new business clients. We would recommend this to other..."
Brenda

, Director | COMPUTER SOLUTIONS
---
5
"Thanks so much for all your help with the recent email marketing campaign using the altitude Communications' My Lead Generator™...as you can see I am wrapped with the outcome and I am really pleased with the response from the advertising campaign. I just thought you would like to know that people are clicking the other links and booking seminar tickets. I can't stop smiling :-)"
Julie P

, Director | JULIE POWER LIFE MANAGEMENT
22 August 2007
---
5
"After attending your Client Attraction Seminar I thought it was Excellent! This would be one of the most intersting semminars I have been to and it was all in plain english, you beauty...I am sure that FastTrack eMail Marketing and Altitude Communications' 3G Websites will take the business to the next level and beyond."
Peter J

, Managing Director | FUTURE HOME FINANCE