WHAT DO OUR VALUED CLIENTS SAY ABOUT US ...
Real people, just like you, that are experiencing real success using Altitude Communications marketing strategies, tools and systems.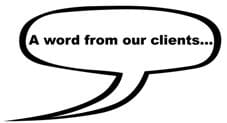 We invite you to read the comments provided to us by our valued client's.
Whilst you are here you might like to listen to our Podcast Success Stories and Video Success Stories online.
Audio Recordings - Success Stories. Click here to listen to them now...

Video Recordings - Success Stories. Click here to watch them now...
If you would like to add to this list, please send us a message and we'll promptly display it on our website!
---

5

"We were initially trying to keep in more contact with our existing clients and also looking for some tools for generating additional clients. Prior to this we just had an outlook database and we searched online using Google and we found Altitude Communications through your own lead generator. The growth that we will achieve now after working with the Altitude team will increase our business long term. I have received instant response and Altitude assisted in all facets our marketing. You showed that you cared about my business and I would recommend that if anyone is serious about growing their business to ustilise the Altitude My Lead Generator Program."

Andrew Baty

, Manging Director | PARAMOUNT COMMERCIAL COLLECTIONS
---

5

"Since I met Bill my whole life has changed... we launched our eZine and ads last night and since then we have had over 34 leads (which is mind-blowing for me) with many of them taking a skills assessment on my website. Your support and your Fast Track program have been hugely instrumental in my business growth last year and I am so grateful for this."

Terri Cooper

, Managing Director | Real Estate Mastery & Coaching and Training Austra
---

5

"I was originally attracted to Altitude by your website and the amount of time you invested with me setting everything out in detail...it was really professional. I had previous spent thousands on press advertising with no results. My new website and Lead Generator system is brilliant and the results only after 2 weeks has been amazing and I am really happy with the number of new leads and in particular being able to turn them into paying clients! The result has exceeded my expectations and I am really over the moon with the ongoing support that I have received form Altitude. I would suggest that anyone considering working with Altitude Communications or doing the "My Lead Generator" program should just take the plunge and go ahead because it gets the results and I assure you that the money will come back to you really quickly and it is money well spent. You will be very happy with the results and I have already recommended to others."

Cassandra Kent

, Franchisee/Owner | THE NATURAL WAY
---

5

"Bill and the Altitude Communications team are brilliant. Bill has a wealth of marketing and sales knowledge which provides a fantastic injection of intelligent and strategic design requirements to build an attractive and functional website. Bill's advice and support has assisted us build a quality client database and e-Newsletter. Bill is more like a business partner in his genuine interest and suggestions in helping to build our business. Thanks again!"

Rachel Quilty

, Managing Director | JUMP THE Q
---

5

"We were very confident of the process Altitude offered and we wanted a logo, brand and website reflecting the current position of where we are and how we get there. The Altitude team are very easy to work with and I found it very easy to communicate with them. They are very friendly and I felt that this made it very easy to work with them on this basis. Communication is the key to most things we do in life and the Altitude Communications team have been wonderful communicators in listening to us, feeding it back and turning our thoughts into positive outcomes. I would absolutely recommend their services to others."

Allan Dunsmuir

, CEO/Managing Director | SHARED VISION GROUP LTD.