WHAT DO OUR VALUED CLIENTS SAY ABOUT US ...
Real people, just like you, that are experiencing real success using Altitude Communications marketing strategies, tools and systems.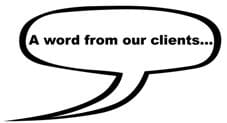 We invite you to read the comments provided to us by our valued client's.
Whilst you are here you might like to listen to our Podcast Success Stories and Video Success Stories online.
Audio Recordings - Success Stories. Click here to listen to them now...

Video Recordings - Success Stories. Click here to watch them now...
If you would like to add to this list, please send us a message and we'll promptly display it on our website!
---

5

"I contacted Altitude after spending thousands of dollars on online marketing with little or no results. Altitude took the time to get to know me and my business. They thought through my concept thoroughly and came back with an outstanding and affordable proposal. I instantly was taken back with the professionalism and Altitude Communications showed with their presentation and the tools they had to offer. I accepted the proposal and the work commenced. Through the whole process I was kept informed, and the final product was absolutely amazing and my business has boomed. My Business has recently changed direction and once again I have asked Altitude Communications to assist me to market my business. I love the work they do and would highly recommend the Team at Altitude Communications to anyone. A big thumbs up from me!"

Jenny Towers

, Managing Director | ENJOY THE LIFE YOU WANT TO LIVE
---

5

"Altitude Communications were invited to expand markets within my photography business. The entire approach right from the beginning was totally professional. Altitude Communications would appeal to business owners eager to expand their business by using practical, low-cost techniques that will enhance and expand the potential of a business. I found the presentation, integrity and professionalism a blessing for the time-poor business owner. Bill is also a concise communicator with a real depth of experience. I would be happy to recommend their services to any business owner wishing to expand it's operation and increase bottom-line profits."

Peter Lindley

, Managing Director | SHELDONLEA STUDIO PTY. LTD.
---

5

"I was referred to Altitude Communications by a business associate. I found your initial presentation and point of contact with you to be excellent - professional and very customer focused. I found your services to be modern and up to date with technology and easy to use. Your recommended content for our website was excellent. We were happy to use Altitude for the copywriting and photo gallery content and very pleased with the results. Suggestions with what to go with initially were well received and logical as we move towards utilising all of the state of the art services on offer in the future. We would recommend your services to other companies."

Jan Rose

, Managing Director | IN2NATIONAL CAREERS
---

5

"We really appreciate you and your team and all the hard work that you have done for us & giving our business it's new professional image. I speak for everyone here, when I say we are all in awe of the wonders of technology and the people that bring it to our lives. Thank you Bill, you are a treasure."

Karen Herbert

, Principal | POSITION ONE BRISBANE PROPERTY CENTRE
---

5

"GREAT WORK! Very professional and helpful! The whole sales team are excited about using the brilliant presentation sales tool."

Robert James

, Managing Director | JAMES HOME SERVICES