WHAT DO OUR VALUED CLIENTS SAY ABOUT US ...
Real people, just like you, that are experiencing real success using Altitude Communications marketing strategies, tools and systems.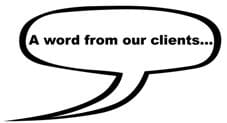 We invite you to read the comments provided to us by our valued client's.
Whilst you are here you might like to listen to our Podcast Success Stories and Video Success Stories online.
Audio Recordings - Success Stories. Click here to listen to them now...

Video Recordings - Success Stories. Click here to watch them now...
If you would like to add to this list, please send us a message and we'll promptly display it on our website!
---

5

Thank you so much for my pressie - it was completely unexpected! I have now rewrapped & am going to take to my big marketing day on Monday to show the franchisees what we should be doing to create that WOW factor with our customers also. Thank you!

Renee Hickman

, Marketing Manager | MR RENTALS FRANCHISING PTY. LTD.
---

5

"The Altitude Communications team actually makes the journey to developing your brand and website fun! They are always willing to go the extra mile and is always suggesting new ways of doing things so as to assist the client in acheiving their business objectives. I am more than happy with my website and with the back-office functionality it has brought my own coaching and training business. I look forward to working with Altitude again."

Gary Daveson

, Director | AUST INSTITUTE OF WORKPLACE COACHING & MENTORING
---
5
"I was thrilled when I came across Altitude Communications. You really stand heads above the rest. It's abundantly clear that you are passionate about your work and that you want to help others succeed."
Paula Mooney

, Boston MA- USA | SUPER NANNY SUBSTITUTE
11 February 2010
---
5
"Your initial presentation was excellent - professional and very customer focused and I also found Altitude helpful and friendly. Altitude came up with some great ideas, which really helped us launch our brand; new clients and staff alike are always impressed with our visuals. Altitude really has helped us build our profile with continuity and presence. It was everything we needed at the time and was great to leave you guys with it and receive the reults with a min. of fuss."
Brett Jenkins

, Managing Director | SEAM SOLUTIONS PTY. LTD.
---
5
"Bill is an asset to any company. He maintained exemplary client relations and is professional at all times. He instilled immediate confidence and did not let us down in any way. Thanks for a job well done."
Joanna Drezek

, Marketing Officer | QLD TEACHERS' UNION HEALTH