Thank you for completing our online survey.
1 time offer - I have a special gift for you...
To show you how appreciative we are that you have taken the time to complete our survey, please accept this 50% discount voucher code which is redeemable on any online puchases. Strictly limited to 12 people only.
50% discount voucher - expires shortly
Your special Discount Code/Coupon is : ACDISC2012
We offer a range of do-it-yourself Digital Books that can further help you to improve the quality of your marketing and the number of leads that you generate.
To your marketing success!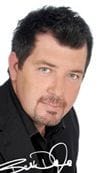 Bill Doyle - Altitude Communications