The Website Process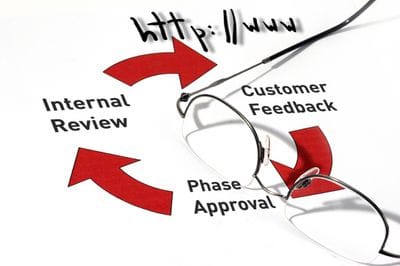 Simple Steps

Gain a clear understanding of your needs...
The first and most important step in our website development process is meeting with you (either in person, or over the phone) to gain an in-depth understanding of your business and what image you wish to project to your target market. During this meeting, we will also discuss your site's purpose, and recommend tools and products that will assist you to meet your objectives.
Prepare an Investment Proposal with our recommendations...
After our initial meeting, we will spend some time researching your industry and reviewing your competitors. Drawing from this information, and our website development experience, we will then customise an investment proposal for you, which will outline our recommendations, and offer suggestions on suitable tools to help meet your objectives.
At this stage, we will also provide you with a critical timeline for the development of your new web site, assist you to choose appropriate imagery and advise you on copywriting options.
---

Creative Brief
Designed to capture your ideas on paper, our creative brief is the cornerstone of our website development system. This simple form will give us an idea of what your business is all about.
After reviewing your creative brief and conducting further industry research, Altitude's Graphic Designers will create four totally unique designs for you. Using your colours, logo, branding and chosen imagery, these interfaces are designed to meet your objectives and are sympathetic to the needs of your target market.
Design Selection and Alterations
Drawing inspiration from the four interface designs, you can either choose an entire interface as we've created it; or pick parts of each that will be combined to create a new interface.
After completing your alterations, we will send you a final design for your approval.
---

Copwriting, Menu and Site Development
During this developmental phase, we are busy designing, constructing and programming each page of your new site. This involves inserting the text, page imagery and menu structure into the system, as well as programming your selected software add-ons to "speak" with your system.
One product that many clients find extremely beneficial during this stage, is the assistance of our Professional Copywriters. Able to transform ordinary words into powerful messages, our Copywriters can relieve the stress and frustration of having to write the website content yourself.
Please note: an editing service is also available. Please contact us by
clicking here
for more information.
---

Once all your content, images, and company details are completed and correct, we will then set-up your email addresses, send your training manuals to you, and complete your training program.
---

Using your Registry Key or "A-record", we will instruct your domain to make your site live. This means that the site is viewable to the public, and ready to start generating results for you.
Remember though: the real advantage of a self-editing website is that you can update your site, yourself at any time, simply by logging into our user-friendly website management system.
To access the back end of your website, simply go to
www.altitudecommunications.com.au
and click on Client Log in. From here you will be asked to enter your username and password before being directed to your site.