Website Add-ons
Websites perform different functions and tasks depending on the type of business and its goals. To ensure that our products meet the expectations of the widest variety of customers, we have organised them into the following categories: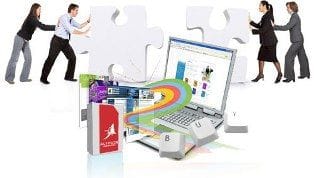 Providing information to users
Did you know that approximately 60% of your customers will view a company's website before choosing to buy their product or service? It's statistics like these that reinforce just how important the Internet is to the success of a business.
To that end, Altitude Communications has developed a suite of easy-to-use FastTrack tools which will ensure that you are able to quickly access and use the information that you need.

These tools include:
Photo Gallery Software
Online Product Catalogue Software
Website Search Functionality
RSS Displayers and Ticketing Systems.
Each tool is designed to heighten the web-browsing experience, by maximising the user's interest and curiosity in the website.
Improving brand recognition
A strong, recognisable and consistent brand is invaluable as the battle for customers intensifies day-by-day. Matching your online brand with your offline brand is extremely important as any variation can cause confusion within your target markets.
Altitude Communications has developed a series of FastTrack products and services that can help you to build, develop and strengthen your online and offline branding. The aim of these products is to:
Deliver your customer's key messages clearly and concisely
Confirm credibility and professionalism
Connect with prospects on an emotional level
Motivate customers to take a predetermined action
Cement user-loyalty, customer retention and longevity.
These tools include:
Simple Flash Header
Flash Introduction
Testimonial Software
Case Studies Manager
Interacting with users
Interaction between a customer and a company's website can be as simple as a one-off five second relationship, or as complicated as an online sales portal, eSeminar series, or chat room. The most common mistakes that most businesses make when building a website is underestimating its full potential, and not having an online strategy to capitalise on it.
Altitude Communications has developed a number of FastTrack tools that will encourage users to:
Return more regularly to the site
Remain on the site longer
Perform a desired goal.
These tools include:
Competitions
Quizzes
Bulletin Board
Internet Forum
Blog
Guestbook
Polls
Making sales online
The capacity to conduct sales online is the buzz-term of this era. No longer is business chained to the fickle nature of salespeople - sales can now happen online, at any time and to anyone. In order to successfully capitalise on this boom, a business requires a sophisticated back-end set up that is not only automated to reduce workload, but is also secure and safe from hackers.
Our designers have created a suite of sophisticated FastTrack tools and plug-ins that will not only open the door to your online sales business, but will also get the customers streaming in.

These tools include:
Advertising Manager
Membership Manager
Website Directory
Classifieds System
Form Creator
Shopping Cart
Affiliate Tracking Software