Attention all Entrepreneurs, Small Business Owners, Coaches, Consultants, Authors and Speakers
Discover how to SIMPLY & EASILY boost your business, generate more leads, get recognised as an expert, attract more leads and make more money ($$$) by writing your own e-Book.



Click the PLAY button below and Listen to our Introduction to the "12 Simple Steps to Writing Great Business e-Books that will Make You Money".
Dear fellow Entrepreneur,
If you've ever considered writing an e-Book, but thought it would be too hard, too much work, too time-consuming or even not worth it... then... Think again.
Our names are Bill Doyle and Sandra Hammond "The Marketing Mentors" from Altitude Communications, and we want to give you our secrets for FastTracking your e-Book and making it a publication that gets read, will generate leads, improve your bottom line, make you famous and if you want... even make you money!
You see, sometime ago, we decided to radically change the way we do business ... we wanted a business that would work without us. We needed a range of products that could capture all our culminated knowledge and funnel it concisely to our clients. But most importantly, the products had to provide tangible benefits to our clients - whatever industry they were in, but that didn't require daily input from us.
If you want to start automating your business, and getting a life instead of a full-time, full-on job, then you need to read on...
Let us let you in on our little secret. Writing an e-Book doesn't have to "consume" your entire world. It is possible to write, edit and publish a fantastic income-generating e-Book just by working on it a few hours each week.
Impossible we hear you say...
It doesn't have to be... read on to find out more...
Popular culture tells us that everyone has at least one "best selling book" within them, and all it takes is a little time to get it out.
Well, this is partly true. Yes, we agree that everyone has at least one "best selling book" within them, but we totally disagree that it takes time to get it out. You see, there are a number of ways to write a book. But if you're looking to generate leads, gain recognition and/or position yourself as an authority in your marketplace...then the quickest, easiest and most simple way is to produce your very own e-Book.
Just imagine writing your very own e-Book and what it will do for you...
Win the respect and support of your clients, peers and business associates.
Generate more leads than you ever thought possible with a stream of referrals and raving fans.
Increase your credibility by positioning you as an expert in your industry which will win the hearts and minds of clients.
Be able to command much higher fees and make more money than you ever thought possible because you are now "an authority".
Create "massive word of mouth exposure" because people love to talk and share information.
Sounds good, doesn't it...
So let us tell you what we've discovered...
After investing thousands of dollars in cutting-edge marketing information, courses and how-to seminars, as well as more than over 25 years combined experience and marketing knowledge, it all comes down to "street smarts" and testing and measuring. In fact, in our learning process, we've made almost all of the typical "rookie mistakes" but you don't have to. You can take full advantage our success, and benefit straight away using our tried and tested methods.
But here's the problem that most people face...
Writing a book that sells takes more than just time and inspiration... it takes heaps of time, inspiration, advanced writing skills, incredible creativity, connections, know-how, structure, and more than a little luck to convince a publisher to publish it.
An e-Book in comparison is self-published, and we believe a lot more useful. But before you go jumping the gun, and putting pen to paper - there are a number of simple rules that can make or break the success of your e-Book.
SPECIAL REPORT: Condensed into 12 easy-to-follow, step-by-step instructions that will save you literally thousands of dollars in wasted time and mistakes, our Special Report will take the guess work out of how to write your very own e-Book. In the past, client's have paid us $400+ per hour in consulting fees to get these marketing secrets and strategies to boost their businesses, create more leads and dramatically increase their sales. Now you have the opportunity to use some of these simple strategies and ideas (they're in our Special Report!) - without the high price tag.

Liz Cassidy from Third Sigma International wrote an e-Book called "Tame Your Time" with the purpose of attracting fresh quality leads into her business. This is what she had to say...

"We have never had a response like the one we had using the Altitude Communications Lead Generator Program...It is significantly more effective than anything we previously used and I have already recommended it to others. The e-Book has already generated over new 100 leads and 100 opt-in subscribers directly into my database in less than 24 hours."
Let's face it; if you want to see your name in print AND reap the many benefits of publishing, then you need to write an e-Book.
The thing is that many entrepreneurs and small business owners don't know where to begin and do not understand that there's a step-by-step process that will make or break the success of your e-Book. That's why our Special Report makes it so easy for you and gives you an UNFAIR ADVANTAGE in the marketplace.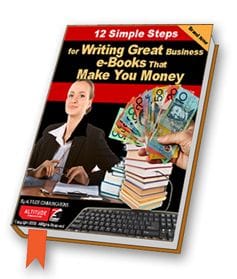 We're exposing our very own secretsto writing and publishing an e-Book that will make you famous, get you recognised as an expert, free up tonnes of marketing time and make you money.
Introducing our Special Report... "The 12 simple steps to writing great business e-Books that will make you money"
This Special Report is jam-packed with easy to follow,step-by-step instructions showing exactly how to brainstorm, create, write, edit, design, and publish your next best seller.
And it's SIMPLE to put these steps to work for YOU!
We did it ourselves with our very successful 50+ FREE eMarketing Tips e-Book. We used this as a lead generator device and guess what...it has pulled well over 2,000 leads for us and generated MASSIVE INCREASES IN SALES in both our traditional off-line business products and services and also our online information products and e-Book sales.
This has since led to speaking engagements, invitations to write for other eZine publishers and a host of other side benefits that has really boosted our business in a big way. More importantly other businesses have emulated what we're doing and are achieving outstanding results using the same techniques and tips.


Nadia Zakaras from Achieve Global produced an e-Book, "20 FREE Sales Tips" that she used to quickly generate new leads for the business.

"Our experience with Altitude has been fantastic, very prompt and very helpful. We generated 60+ new leads in less than 24 hours. It has been definitely been worthwhile and your ideas and simple strategies made it very easy."
And best of all... it doesn't matter what your current situation is.
If you follow our easy-to-understand and easy-to-implement steps you don't need to worry about your competition any longer. Even if the economy has gone bad or things haven't worked out the way you wanted them too... Or even if you're just sick and tired of exchanging your time for money...YOU CAN DO IT!
Follow our twelve simple steps to make more money and generate more leads than you ever thought possible!
Ray Richardson from BioEnergy partners used his new e-Book "Free Energy Tips" to help readers learn how to Energise, Invigorate and Replenish with some Simple Energy Tips. Ray used his e-Book to attract new leads into the business.

"I am absolutely impressed...the response to the e-Book was a resounding success. It was so easy!"
We are only releasing 247 copies!
You'll want to jump on this FAST, because we're only releasing 247 copies. You see, we don't want everyone getting their hands on this information - just the people who are really serious about taking action and increasing their income this year.
---
Special FREE Bonus #1
Plus if you purchase today, we'll give our BEST SELLLING e-Book absolutely FREE! Strictly for a Limited Time Only.
Yes, that's right. We'll also include our "10 Strategies for Boosting your Website Traffic" at absolutely NO CHARGE. This e-Book contains 10 easy to implement strategies covering topics such as Search Engine Optimisation, Blogs, eNewsletters, RSS Feeds and much more...

Designed to help you to help yourself, our 10 Strategies will show you how to drive more visitors to your website and take all of the guesswork and confusion out of the equation.
Valued at $19.97 it's yours to keep absolutely FREE
FREE Bonus #2
You will also receive a FREE subscription our "My Marketing Mentor" eNewsletter valued at $197
You will receive weekly marketing inspiration and business boosting ideas in bite-sized chunks.
Designed to help you to boost your marketing results whilst still growing and developing your business, My Marketing Mentor eNewsletter is like having an ideas coach at your fingertips. Including the latest ideas, tips, strategies and how-to's, as well as a number of special offers from local businesses, My Marketing Mentor eNewsletter is your weekly marketing weapon to gain the competitive edge in the marketplace.
That's a total of OVER $200 worth of added value BONUSES for you to keep!
---


We've included EVERYTHING You Need to Guarantee Your Success when writing a Business e-Book that will generate leads for you and make you money.
But if you're still skeptical, we understand. That's why we've put our personal guarantee on every single dollar in this remarkable report. This is an easy to follow 12 step guide on how you can reap the benefits of writing your very own e-Book that will get you recognised, position you in the market as "an expert", generate more leads and help you to earn money while you sleep.
So here it is...our PERSONAL GUARANTEE
We are 100% confident that if you carefully read and implement the strategies, tips and steps contained in our report you will gain a noticeable rise in the amount of leads that you generate and increase your business. So if the Special Report doesn't meet with your satisfaction and doesn't produce the results you were looking for, just ask us for a full refund within ninety days from the date of purchase.
No questions asked and no reasons needed. Now that's our promise to you!


Bill Doyle and Sandra Hammond
Marketing Mentors for Altitude Communications
We have purchased many other guides out there - online and offline, but nothing comes close to the simple yet powerful strategies and steps contained in "The 12 simple steps to writing great business e-Books that will make you money!" Remember this will save you literally years of research and frustration. We have compiled all of the powerful yet simple steps, strategies and tools that you need to get you started right away. This system contains a wealth of information that experts have said is worth much more than what we are asking you to invest.
You will enjoy the benefits right away as we have taken all of the guesswork out it and laid it out for you on a silver platter (so to speak).

At this stage you are most likely expecting the price to be around $200 upwards...well think again. We are offering you "The 12 simple steps to writing great business e-Books that will make you money" for the amazing price of only $19.95 Plus don't forget we are offering this to you combined with over $166.00 worth of added bonuses.
That's right, all this for an amazing $19.95
Yes please, I am ready to order now
Just remember that your new Special Report is 100% tax deductable as a business expense... now that makes the deal a little sweeter again doesn't it?
Listen to just some of the success stories recorded in our Podcasts.Click here and listen to how some of our valued clients have benefited from using the tips, techniques and strategies contained in our online information products and services.
You simply can't lose with this offer...so are you ready?
Here it is... our NO RISK reservation form
Yes Bill and Sandra,
Show me how to boost my business, generate more leads, get recognised as an expert and make more money by writing my own e-Book with your 12 simple steps to writing great business e-Books that will make you money.
I understand that I will receive an email containing my passcode protected link to instantly download my PDFcopy right away!

I understand the "12 Simple Steps to Writing Great Business e-Books That Will Make You Money" comes with a full money back guarantee and I can receive a full refund within ninety days if I am not completely satisfied. I understand that my investment is completely risk free!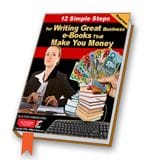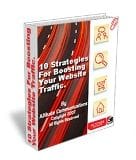 And all I will pay for both the 12 Simple Steps to Writing Great Business e-Books and my added bonuses is...
$19.95

Remember this offer is for a strictly limited time and we will only be releasing 247 copies...so act quickly!
---
This Awesome Report will sell-out FAST, so don't delay! Own it NOW... RISK FREE, and Make your Own Mind Up Afterwards!

Just remember, we stand by our 100% personal guarantee and if you decide you don't like the easy-to-follow and simple-to-use steps in our Special Report, simply ask for your money back...no questions asked.

You can start reading and using these powerful strategies in just minutes!
Who knows...you may even get inspired start planning and writing your new e-Book right away or perhaps you will implement some of our simple strategies to increase the readership and traffic on your website.

Remember, that your privacy is important to us and we will never share, rent or sell your personal details to anyone for any reason whatsoever.
So, are you ready? Your Special Report and FREE Bonuses are waiting for you to collect...so order NOW!
---
Remember this offer is strictly limited and we will only be releasing 247 copies...so act quickly!

To your success,

Bill Doyle & Sandra Hammond
"The Marketing Mentors" from Altitude Communications


P.S. This offer is guaranteed for a limited time and there will only be 247 copies released this year (and we mean it!) ...so act right away to avoid disappointment and secure your copy now!

P.P.S. Remember you're investing in yourself and your future with absolutely NO RISK whatsoever, so you have nothing to lose and everything to gain.We guarantee it!!
Altitude Communications
"Intelligent Marketing Solutions"

P: 61 + 7 3102 3880 eFax: 61 + 7 3319 6167
OFFICE: 4/12 Park Road Milton, Brisbane, Qld Australia4064
POSTAL: PO Box 256, Fortitude Valley, Brisbane, Qld Australia4006
Copyright 2008 Altitude Communications. All Rights Reserved.
---
Legal Disclaimer: Every effort has been made to accurately represent our program and its potential. Any claims made of actual earnings or examples of actual results can be verified upon request. The testimonials and examples used are exceptional results, and don't apply to the average purchaser and are not intended to represent or guarantee that anyone will achieve the same or similar results. Each individual's success depends on his or her background, dedication, desire and motivation. As with any business endeavour, there is an inherent risk of loss of capital and there is no guarantee that you will earn any money.